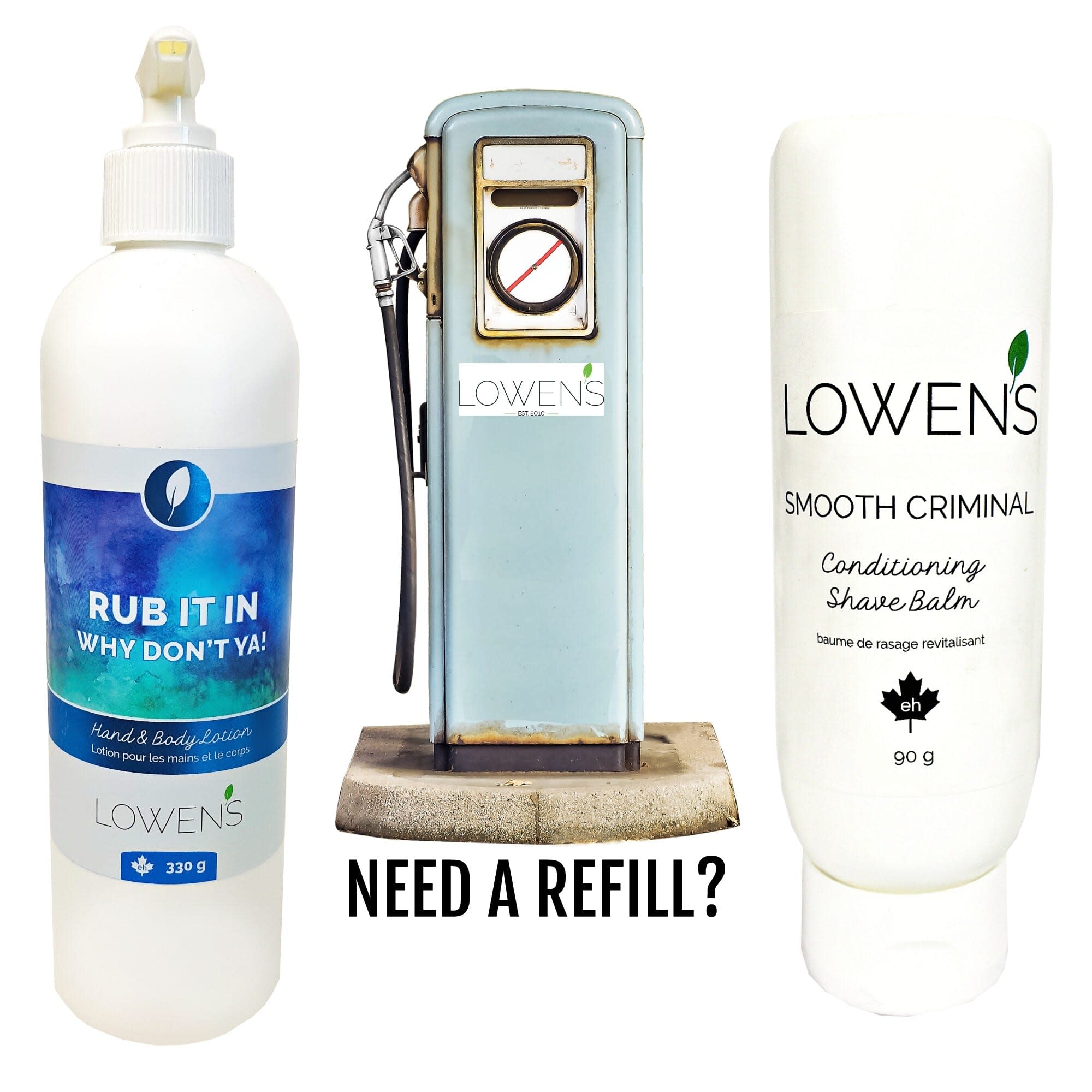 We are stoked at Lowens.ca to be offering product refills on 2 of our blends, including:
Yup, on tap for your skin care needs! Plus, eco-friendlier, since you can keep on re-filling your bottles once you've got 'em. We're always looking for ways to cut back on packaging. This seems like the best next step! Available online in our swanky virtual store in the product drop down selection list.
Cutting Down On Plastics
Plastics can be bad. We all know it right… So, re-using current bottles, for us at Lowen's,  puts a major dent on all the gnarly waste that's accumulating out there as many plastics, while recyclable, are often thrown out where reprocessing facilities don't exist, items are soiled (you have to clean them first!) and even when recycled, essentially are "down" cycled to a product that is lesser than the original. We aren't just preaching, every day approx. 8 million pieces of plastic end up in our beautiful oceans. Research says that around 5.25 trillion macro and micro-plastic pieces are just floating around in the open ocean waters. That's up to 269,000 tonnes of potentially harmful debris and plastic now makes up 60 to 90% of all marine debris studied- YUCK!
So, cutting back on plastics. Yes, it's just a downright good idea.
You may be thinking, why use plastic packaging at all, as this is a question that plagues us on the daily (we address this in our FAQs).  Like many other consumer packaged goods company, we need to get our product, safely, to its destination.  Currently, plastic containers offer the strength, reliability, low weight and protective qualities needed.  Glass is incredibly heavy, costly and is breakable, metals are also heavier and considerably more expensive, may not be recyclable and often are blends of different materials (e.g. plastic coated).  So we will continue with plastic while we continue to seek out more sustainable alternatives (like our refill program).
CONCLUSION – Offering Product Refills as a step forward.
Stick around, we plan on adding more products to our REFILL PROGRAM list! We hope you dig the fact we're offering product refills… Let us know in the comments below!
We've also cut-back on plastic packaging, plastic films, wrapping – to offer greener options there too. We are not perfect (far from lol…) but every step we take, is a step in a more sustainable direction for all. Considering our skincare blends are 100% pure, we are proud to keep working on getting our packaging there one day too. Lowen's was started out of the love for our children. Their future is paramount and creating a sustainable planet is our dream for them…
Thanks for checking out our latest blog post. Expect more news coming from us as we have a few new product kits coming and more.