Swamp Thing Clay Mask (3rd Place 2022 Certclean Awards – Face Mask)
$20.00
Beautifying, skin softening clay mask. Created using Canadian glacial marine clay (AKA Canadian colloidal clay.) Bringing a spa day, home to you!
Deep pore cleanser
Exfoliates naturally
Contains safflower oleosomes and aloe (meaning this mask is not drying) 
PRE-BLENDED for easy application
Ingredients: Aqua, Canadian Colloidal Clay, Carthamus Tinctorius (Safflower) Oleosomes, Aloe Barbadensis Leaf Powder, Phenoxyethanol, Ethylhexylglycerin.

(2019 Eco Excellence Awards Finalist!)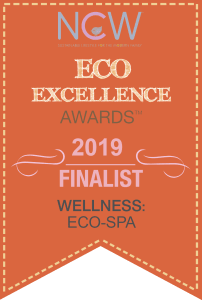 Net Wt. 90 grams/3 ounces
Description
Swamp Thing Clay Mask 

Product Description:
Spa tested "Swamp Thing Clay Mask" is Lowen's answer to an effective face mask, using uncomplicated ingredients.
Our unique formula starts with Canadian glacial marine clay (AKA Canadian colloidal clay).  What makes this clay special? It's the product of the movement, erosion and melting of rocky mountain glaciers (which are sadly melting at an accelerated rate… but we digress) The very fine particles (resulting from this erosion) make their way down the mountains of British Columbia, through the many rivers and streams. Ending their journey by settling on the coast. Here the particles lie! Bathed in the pristine phytoplankton-rich coastal waters until harvested.
Sounds pretty good right?
In addition to Canadian glacial marine clay. We suspend the particles in a mixture of aloe vera and safflower oleosomes.  Next, the aloe soothes your skin as the mask dries (letting the oleosomes moisturize your skin since as the clay does its job!) void of feeling like your face has been robbed of all moisture.
Swamp Thing Clay Mask – helps draw out:
environmental toxins
excess oil
dirt
dead skin
& other generalized nastiness…
This combination of safflower oleosomes and aloe also conditions and calms complexions. After using Swamp Thing, your skin will feel noticeably revitalized. Finally, this mask is vegan, cruelty-free, and suitable for all skin types. Also scent free + EWG Verified.
Oh, and what's with the name?  Well our mask is green, we like comics, and in our minds, it made a lot of sense…
Here's a little more information on how to use Swamp Thing Clay Mask:
Directions: Generously apply Canadian Glacial Clay Mask on your face. Then, let 'er dry. It'll do its magic to soften, detoxify and refresh skin. Rinse-off 15min. later approx. Follow-up with You Sure Clean Up Nice! Wink, wink, and you're off to the races!
Note: After you apply Swamp thing and as it begins to dry, you may experience stinging as the clay stimulates blood flow.  This stinging will subside shortly, however your skin may well have a red "glow" for some time after you wash it off.  This is all to be expected and will be more pronounced for those with more sensitive skin.
Pro Tip: After your Swamp Thing Clay Mask dries, we suggest applying a few sprays of Get Toned! Aloe Vera Toner to tour face (close your eyes first please) for extra conditioning effects!
For external use only
Net Wt. 90 grams/3 ounces
As always: Cruelty Free (we only test on willing humans)
Additional information
| | |
| --- | --- |
| Weight | 0.110 kg |
| Dimensions | 4 × 4 × 15 cm |
Questions & Answers
Is this safe for use during pregnancy?

Q

Is this safe for use during pregnancy?

answer now

Asked on

February 23, 2023 9:10 AM

A

Hello Shannon.

Swamp thing is safe for pregnancy - it would just be drawing the bad stuff out while hydrating your skin in the process.